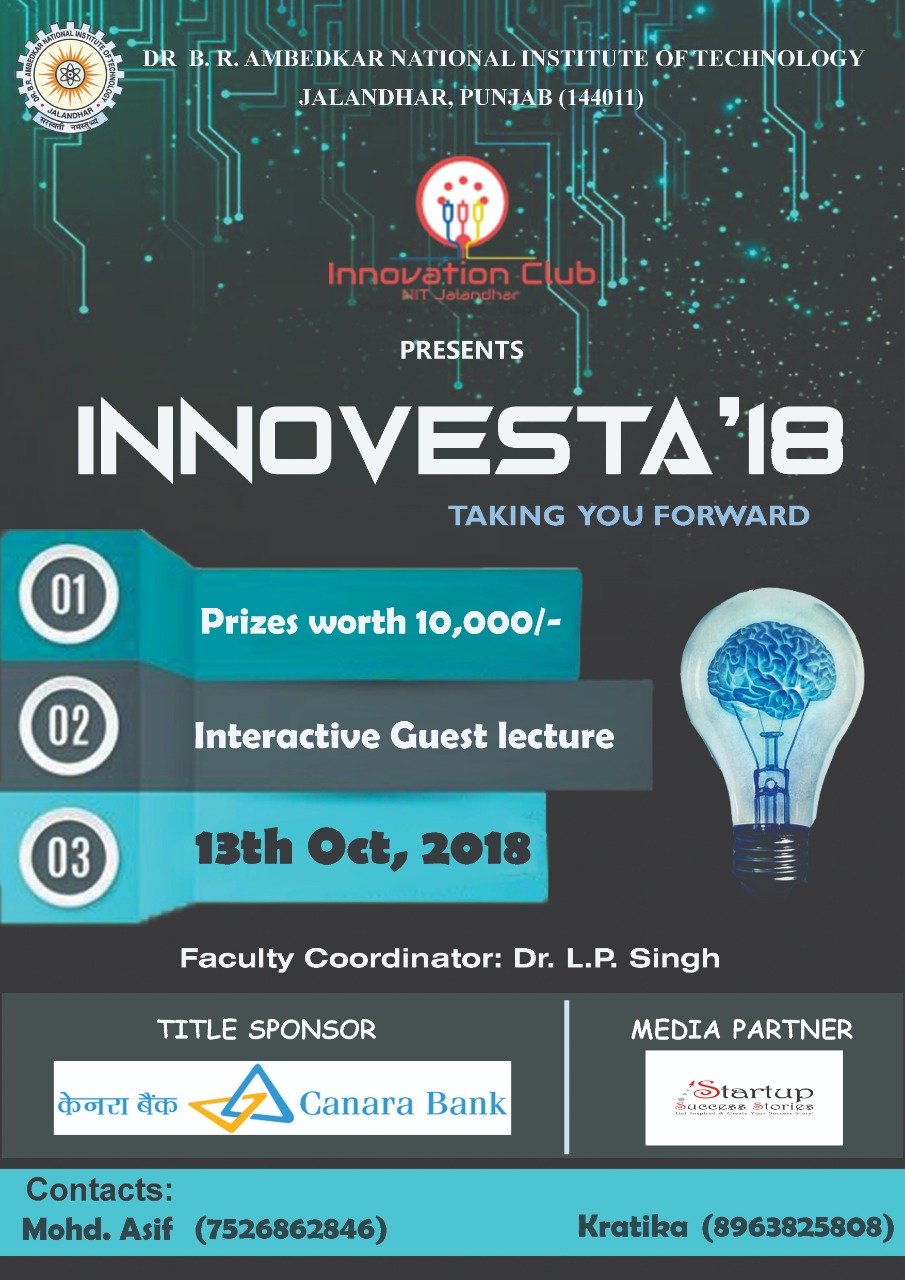 About Innovesta ' 18:
Innovation Club of NIT Jalandhar conducted its second symposium INNOVESTA'18 sponsored by Canara bank with focus upon innovation and design successfully on 12th & 13 th of October, 2018. The event was inaugurated by the Director, NIT Jalandhar Prof. L K Awasthi. The event started with lamp lightening ceremony. The coordinator of Innovation Club, Dr. L P Singh, expressed that team is very delighted and highly motivated to provide a platform to the juvenile technocrats for transforming their imagination into reality.


The main idea behind the event was presenting a fabricated model in the following disciplines:
1. Hardware Based : IOT, Aurdino etc.
2. Software Based : Web and Mobile Applications.
3. Business Plans : Entrepreneur Ideas.
The event saw many innovative and unique ideas. More than 35 teams from various institutes participated and presented their ideas through project and PPTs. A total of 35 teams witnessed the event from various institutes including Lovely Professional University Jalandhar, Gulzar Group Of Institutions Khanna, GNDU Jalandhar, GNDU Ludhiana, St. Soldier College, Apeejay College, DAV College and NIT Jalandhar. The event was judged by Dr. Dilbagh Singh, Professor, Department of Instrumentation and Control Engineering, Dr. L P Singh, Faculty Coordinator Innovation Club NIT Jalandhar, Dr. Kapil Kumar Goyal, Department of Industrial and Production Engineering, Dr. Balwinder Raj, Department of Electronics and Communication engineering.
Each team presented the model and presentation enthusiastically and the total prize money for the event was Rs.11000.
EVENT DATE: 8th & 9th NOVEMBER

The winners were :


Winning team, Team Gulzar B from Gulzar Group Of Institutions Khanna.


1st Runner Up-Team Ignition, from NIT Jalandhar. Team comprised of 2nd year students of NIT Jalandhar.


2nd Runner Up-Team SOPME R4TT from lovely professional university.

Six Consolation Prizes were distributed to teams from NIT Jalandhar and Lovely Professional Univesity and Gulzar group of Institutions.
All the teams were very enthusiastic and determined and found this to be a great platform to reward talents. All the Team Members were presented with momentous as a token of respect and for their hard work.